Give the Gift of Delicious; Ottawa artisans craft tasty treats fit for foodies by Laura Robin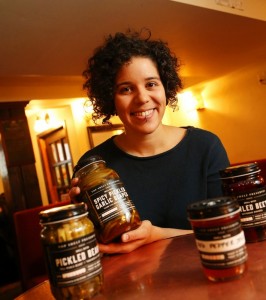 We're so pleased to be mentioned in this round-up of local specialty food businesses in Ottawa offering unique products perfect for gift-giving.
Our events calendar has the skinny on our next appearances, and we have quite a few lined up for holiday shoppers. Whether it's a hostess gift, something to kick up your holiday drinks or cheese and charcuterie platters, or just for you to snack on privately away from the hustle-bustle of the holiday season, we know you're going to love our expertly prepared pickles and preserves.
We tried some salted caramels from Morsel at Idle Hands Craft Fair last week and they were to die for! You've gotta check them out. We'll both be at Urban Craft, Dec 14.
Updated October 7, 2015 by Sara (fixed broken link)