We put together a video about Top Shelf Preserves and founder Sara Pishva, take a look!
With our recent press in the Ottawa Citizen, we want to remind everyone to check out our upcoming events and our stockists to find out where to purchase our small batch artisan pickles and preserves.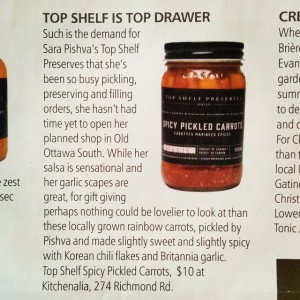 Take a look for us at one of Ottawa's best independent craft sales, Urban Craft Market, this Saturday December 6th at the Glebe Community Centre 10am-3pm. We are working with N-Product to do a mashup, so come early to see what we've put together!
Happy gifting and thank you for your ongoing support!